USA
Showing all 2 results
Grandview at Las Vegas, Nevada
Las Vegas, Nevada USA
Resort Description
The spacious, fully equipped one- and two-bedroom suites at The Grandview at Las Vegas are situated on the south end of the famous Las Vegas Strip and across the street from the South Point Resort and Casino. Vacationing at The Grandview at Las Vegas affords you and your family the ultimate in entertainment. From spine-tingling volcanic eruptions to pirate battle reenactments, the Las Vegas Strip and surrounding area offer entertainment opportunities for one and all. Las Vegas is unsurpassed when it comes to spellbinding stage shows and extraordinary entertainment. There are slot machines, high stakes table games, blackjack, craps, roulette and even the very latest in video gaming as well. While Las Vegas is undoubtedly a paradise for entertainment and gaming, it's no secret that what people really like about the city is that it's so easy to indulge here! From buffets bursting with cuisines du jour, a Las Vegas tradition, to more intimate dining experiences, you certainly won't go home hungry! From herbal facials to salt scrubs, you'll also find an assortment of soul soothing spa opportunities in Las Vegas. Saunas and steam rooms, hot-stone massages, Swiss showers and European treatments await! And if golf's your game, Las Vegas is the vacation destination for you. The same goes for shopping and sightseeing!
Read more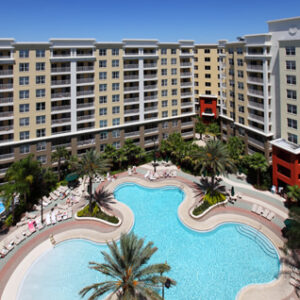 Vacation Village at Parkway, Orlando Florida
Orlando, Florida USA
Resort Description
At Vacation Village at Parkway, you and your family will enjoy the comfort and amenities you long for just minutes from Central Florida's legendary recreational facilities and magical attractions, including Disney's Magic Kingdom, Sea World and Universal Studios. The resort features all of the comforts of home plus much, much more, including an oversized swimming pool, picnic area and even a tot lot. As if the Orlando area itself didn't offer enough entertainment with Walt Disney World, Universal Studios, MGM Studios and more, there's a veritable wealth of interesting sightseeing destinations located just a short driving distance away. From historic St. Augustine to Tampa's Busch Gardens and from Florida's famed Silver Springs to the Kennedy Space Center, there's a world of fascinating exploration, sporting, shopping and dining opportunities awaiting you near Vacation Village at Parkway.
Read more